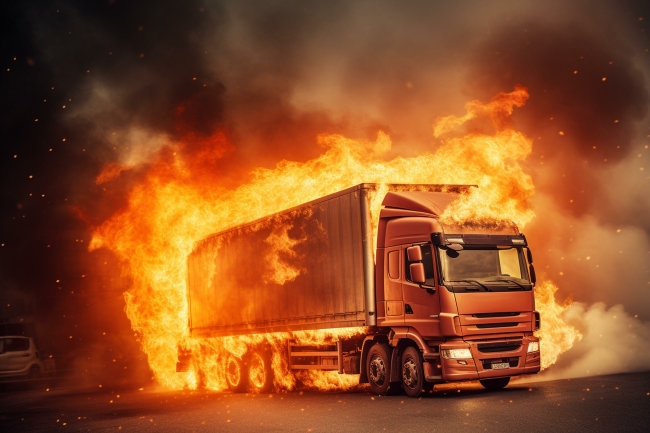 Policyholders often assume that insurance will protect them from worst-case scenarios. After all, that's the whole point of insurance. Unfortunately, though, not all moving insurance policies cover total losses. Since a lot of things can go wrong during a move, it's always a smart idea for moving customers to purchase all-risk moving insurance.
Not All Moving Policies Cover Catastrophic Events
Even customers who have moving insurance may not have the coverage they need for a catastrophic event.
One moving customer learned this the hard way recently. The customer booked a move with one of our affiliates, but a subcontractor handled the move. While in transit, the truck rolled over and caught fire. Everything was destroyed.
Normally, we would pay fully up to the limits for a claim like this, but the customer had underinsured the load with a named perils policy that had a limit of only $80,000. The total claim was about $378,538 – more than four times the limit.
How to Avoid Uncovered Losses
Some customers skimp on insurance because they don't think a total loss will occur. They're worried about things like busted television screens and broken dishware – the types of damage that may occur in a typical move.
However, total losses are possible. Vehicles can catch fire. Trucks can flood. Entire loads can be stolen. When catastrophic events occur, moving customers may lose everything.
To make matters worse, many people severely underestimate the value of their home's contents. The total of all the furniture, electronics, kitchenware, clothes, and collectibles can easily come to six figures – and that's not even including high-value items like fine art and jewelry.
To avoid ending up with hundreds of thousands of dollars in uncovered losses, moving customers need to choose their insurance policies wisely.
Insure the full value of the load. If you're not sure how much your stuff is worth, you can use a home inventory app to gain a more accurate idea of what you own. This will also come in handy when you buy homeowners insurance for your new home. NerdWallet lists several home inventory apps you can use.
Declare high-value items. You need to list fine art, electronics, antiques, and other high-value items separately. (This is often necessary for homeowners and renters insurance, too.)
Understand the difference between named peril and all-risk moving insurance. All-risk moving insurance provides a greater level of coverage.
Types of Moving Insurance
Many moving customers may be surprised to learn that there are different types of moving insurance. They may be even more surprised to learn that the free released-value protection that interstate moving companies offer is NOT insurance and, in most cases, does not provide adequate protection.
According to the FMCSA, released-value moving protection only covers items at 60 cents per pound. This means a 50-inch television weighing 25 pounds would be valued at $15. Imagine finding out your television was destroyed in a move and only receiving $15 to buy a replacement! Moving customers who find themselves in this situation will be understandably upset – and may leave scathing reviews for the moving company that failed to talk to them about more suitable coverage.
Third-party moving insurance offers better protection, but not all policies are the same.
Total loss insurance sounds good, but there's a catch: it ONLY covers total losses. If 100% of your belongings are damaged or lost in a fire, flood, theft, or other catastrophic event, you will receive compensation. However, if only certain items are affected, you won't get anything.
Named perils insurance covers individual items, up to the policy limit. However, only the perils listed in the policy are covered. Furthermore, the policy excludes any damage that occurs during loading or unloading.
All-risk insurance provides the greatest level of coverage. If your belongings are damaged or lost, your all-risk policy will cover the full repair or replacement value, up to the policy limit.
Moving customers can gain protection with moving insurance. Moving companies can help by educating their customers on their options and by providing access to quality third-party moving insurance. Join the Relocation Insurance Network.